rpgaymer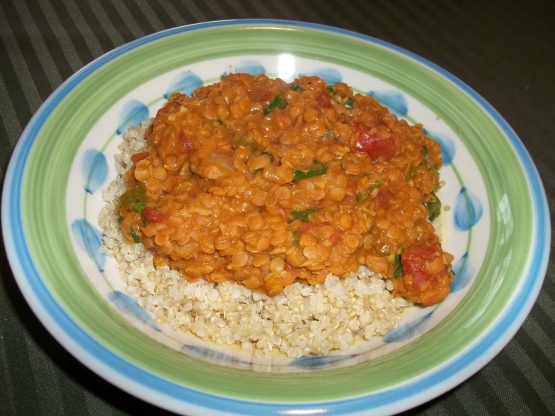 Taken from AllRecipes.com An extremely healthy, vegan, gluten free meal with lots of indian spice. I take down the spice a notch so my toddler will eat it. If I don't have coconut oil, canola or a mild vegetable oil will work fine.
Whoa... this is really good. I thought that amount of curry powder was way too much, but nope, it was just right. I had to use ghee instead of coconut oil, and threw in two chopped serrano chilis with the onions. Otherwise, I wouldn't change a thing. The lentil mixture was so full of flavor that I think even the most hardcore carnivore wouldn't miss the meat! [Made & Reviewed for PAC Fall 2013]
Soak quinoa in a bowl filled with cold water for 5 minutes, then drain in a fine mesh strainer. Rinse with running water - drain.
Bring 4 cups water and tbsp salt to a boil in a saucepan. Stir in the quinoa, cover and reduce heat to medium-low. Simmer until the quinoa has absorbed the liquid and is tender, about 20 minutes. Set aside and keep warm.
Melt the coconut oil in a large pan over medium heat. Add the onion and cook until the onion has softened and translucent. Mix in the garlic for 30 seconds. Add tomatoes and cook for 5 minutes more.
Pour in water, coconut milk. Add the molasses, coconut powder (or flakes), cinnamon sticks, curry powder and ground coriander. Bring to a simmer over medium-high heat, then add the lentils and cook until tender (15-20 minutes). Stir frequently as the lentils cook to keep them from sticking. Be careful not to overcook because the lentils will quickly lose shape and turn to a paste.
Once lentils are done, season to taste with salt and pepper, and stir in the chopped cilantro. Serve the stew over a bed of quinoa.