Lentil Stew With Pumpkin or Sweet Potatoes
PaulaG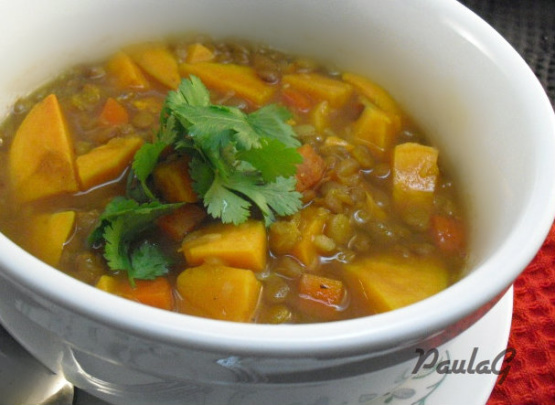 This easy, subtly seasoned stew is an adaptation of a Moroccan recipe by Kitty Morse, from her lovely book "The Vegetarian Table: North Africa." Whether you choose to use sweet potatoes or winter squash, you'll be using vegetables with a great deal of vitamin A. Recipe discovered on the NY Times website.
Combine the lentils, water or stock, onion, garlic cloves and bay leaf in a large soup pot or Dutch oven. Bring to a boil.
Rub the saffron between your fingers and add to the pot, along with the turmeric and the cilantro. Reduce the heat, add salt to taste, cover and simmer 30 minutes.
Remove the onion and garlic cloves from the pot, and add the remaining ingredients except the parsley. Bring back to a simmer, cover and simmer 30 minutes or until the lentils and vegetables are tender.
Discard the cilantro bundle, taste and adjust seasonings.
Just before serving, stir in the parsley.