Lentil Stew With Butternut Squash
BB2011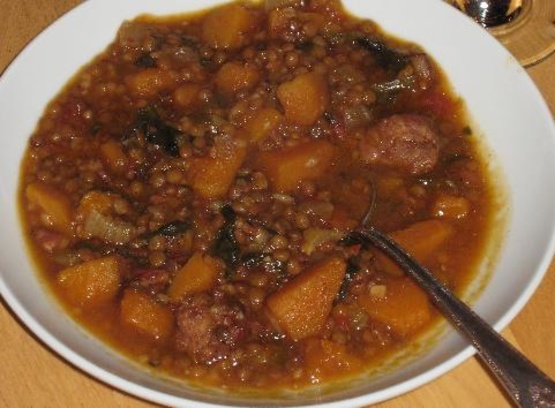 Good Housekeeping January 2009 This flavorful vegetarian stew is perfect for a heary evening meal. I recommend making savory dumplings to put in the stew. You will NOT be disappointed! It requires a slow cooker, but is so worth the wait.

This was really easy to throw together in the morning and serve up in the evening. What I did think needed to be changed up was perhaps some more seasoning. In particular,I think garlic would work really well with this dish. My husband did really love the meal and I know we will make a version of it again but with some changes. Made for PAC Spring 2010.
In 4.5- to 6-quart slow cooker bowl, combine celery, onion, squash, lentils, water, broth, rosemary, 3/4 teaspoon salt, and 1/4 teaspoon freshly ground black pepper. Cover slow cooker with lid, and cook as manufacturer directs on low setting for 8 hours.
To serve, spoon lentil stew into serving bowls; top with cheese shavings, and sprinkle with chopped parsley.
Makes about 11.5 cups.