Lentil Stew over Couscous
dicentra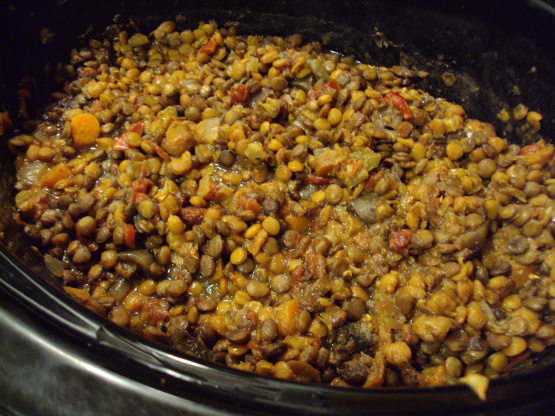 I love cooking in the crocpot and the way stews turn out. This is a hearty stew, filled with vegetables and a great way to warm you during the cooler months. This recipe makes 12 generous servings and the stew itself can be frozen for up to 3 months. The recipe is courtesy of Best-Loved Slow Cooker Recipes.

This is really yummy! I threw it all together at lunch and by the time I got back home for lunch the house smelled wonderful! I cooked mine on high for about 6 hours. I didn't have celery so I used an extra carrot. Red bell pepper instead of green. The pepper, tomatoes and onion sort of dissolved into the stew. Served it over Israeli couscous. YUM! Put some of the leftovers in the freezer too. Thanks for sharing.
Combine lentils, water, tomatoes, broth, celery, onion, bell pepper, carrot, garlic, marjoram and black pepper in the crockpot.
Stir; cover and cook on low for 8 to 9 hours.
Add vinegar and olive oil, stir, serve over couscous.
Garnish with carrot curls and celery leaves.