Lentil Soup With Spinach and Lemon (Ads Bi Hamud)
Rita1652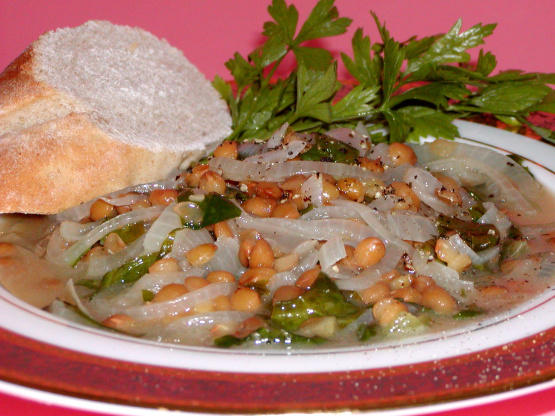 A rich lentil soup recipe which I've adapted from an online Jamie Oliver recipe, and posted here in response to a Forum request for a lentil soup recipe without tomatoes. The preparation and cooking times below do not include the one hour required for soaking the lentils.
Wash and drain the lentils, place them in a pan with water to cover and simmer for 30 minutes or until they are very tender, adding salt and pepper, to taste, towards the end of the cooking time.
Wash the spinach thoroughly, remove the stems, chop the leaves coarsely, and add them to the lentils.
Sauté the onions and garlic in oil until soft, add the flour and stir well.
Add a cup of water and stir until this sauce thickens; then pour the sauce into the soup.
Add the lemon juice and more water, if necessary, and simmer until the soup is thick.
Serve very hot.