Starrynews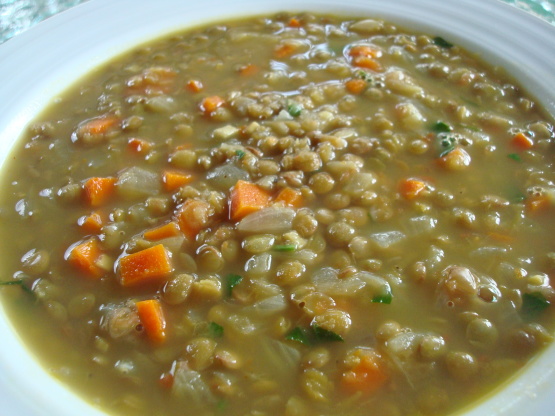 A recipe from Ricardo. That recipe may be frozen.

Very good soup. I used cumin instead of curry. Even though its been in the 90's this last week, I work in an office that is kept ice-box cold, so I enjoy soups for lunch. This soup is one that I will make often. Thanks for sharing the recipe.
2

onions, chopped finely

2

garlic cloves, chopped finely
1⁄2 teaspoon curry powder (I used cumin)

1

tablespoon olive oil

2

carrots, peeled, diced finely (I used 3 carrots)

5

cups chicken stock or 5 cups vegetable stock
3⁄4 cup red lentil, rinsed
hot pepper paste (I used Sambal Oelek) or harissa (I used Sambal Oelek)
salt and pepper (I didn't add salt)
In a casserole, brown onions, garlic and curi powder or cumin in oil.
Add carrots and sauté 1 minute.
Add remaining ingredients.
Bring to boil, cover and let simmer slowly 10 minutes.
Adjust seasoning.