Lentil Salad (Yemiser Selatta)
Bayhill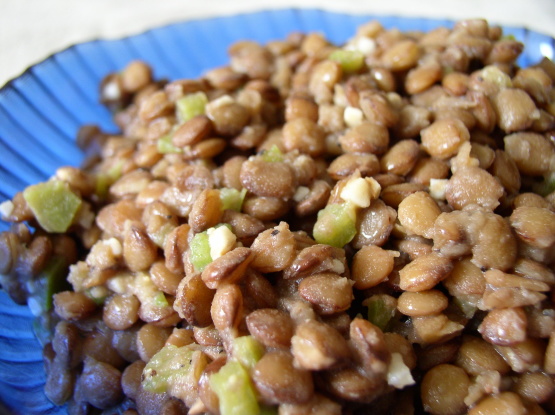 I loved this salad. I made it for lunch today using green lentils. I ate half of the salad myself! It is so easy, yet so flavorful. I didn't change a thing and will be making this again. Thanks!
Rinse the lentils under running water in a sieve.
Then drop them into boiling water, enough to cover by 2 inches.
Simmer the lentils for 30 minutes. Do not overcook.
Drain thoroughly and set aside.
Combine the vinegar, oil, salt, and black pepper in a deep bowl. Mix well.
Add the lentils, garlic, and jalapenos, and toss gently.
Let sit for at least 30 minutes before serving.
Once again this did not say to chill but -- I think I would.