Lentil Salad With Roasted Sweet Potatoes and Queso Fresco
Parsley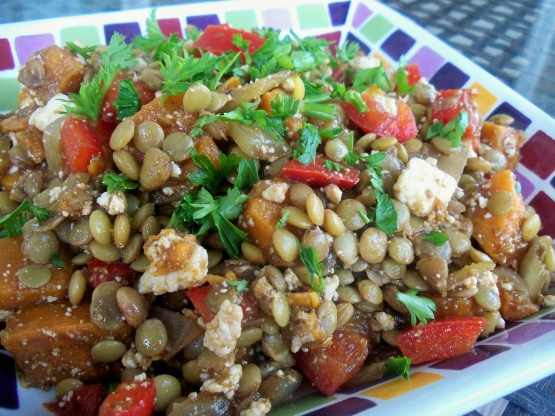 From about.com, posting for ZWT 7, South America. This combines two of my favorite things, lentils and sweet potatoes! Recipe is credited to Marian Blazes, who says "Toss it all together and serve warm, adding a few baby spinach leaves for something green. This is a healthful salad that everyone will enjoy. " Servings are a guess...please help me if this needs correcting!

This is an excellent salad, though I am so glad I followed up on Parsley's suggestion re: cilantro. I mixed in a good bit and threw some more on top and the cilantro added just the right note. I also served it on a bed of baby spinach leaves. This was very good when freshly made, and (based on a very small amount of leftovers) also very good the next day, having absorbed the dressing. Thanks, SV!
2

sweet potatoes, peeled and cut into 1-inch cubes

1

red onion, coarsely chopped

2

tablespoons olive oil
1 1⁄2 teaspoons Sazon Goya seasoning (or 1 teaspoon cumin and 1/2 teaspoon paprika)
salt and pepper
1⁄2 cup lentils

2

cups water

1

teaspoon salt

2

tablespoons olive oil

2

tablespoons balsamic vinegar

1

red pepper, diced
1⁄2 cup queso fresco
salt and pepper
Preheat the oven to 400 degrees.
Toss the cubed sweet potatoes and the chopped red onion with 2 tablespoons olive oil, the SazonGoya seasoning packet, and salt and pepper.
Place vegetables in a roasting pan and roast, gently stirring every 10 minutes or so, until potatoes are starting to brown around the edges and appear slightly crispy. Let cool.
While potoatoes are roasting, bring the lentils to a boil in the 2 cups of water with 1 teaspoon salt.
Simmer lentils gently until tender, about 25 minutes.
Drain lentils well, and let cool completely. Place lentils in a bowl and toss with 1 tablespoon olive oil, 1 tablespoon balsamic vinegar, and the juice of one lime.
Stir in the sweet potatoes and onions, chopped red pepper, and queso fresco, and gently toss to mix. Season with salt and pepper to taste.