Linky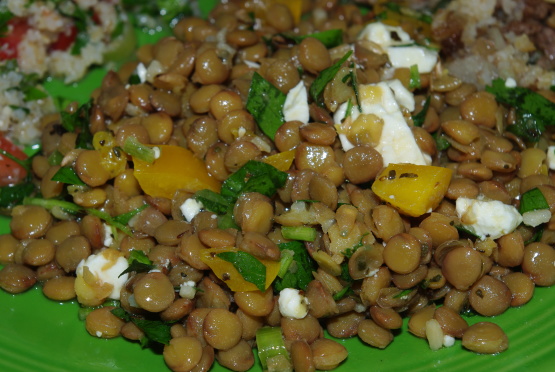 This is out of the 2005 edition KCTS Chefs cookbook. It was sent in by owner and executive Chef Alison Hero from the Silverwater Cafe in Port Townsend , Washington. Cooking time does not include refrigerated time.

This is a sure fire winner if you like lentils. Loved the feta, it seemed the perfect ingredient to set this above the rank and file. Great flavors, great taste, great lunch. :D
Place lentils and water in a small pot and cover.
Bring to a boil, reduce heat and simmer for 20 minutes.
Drain and rinse with cool water.
In a large mixing bowl, combine remaining ingredients.
Add lentils when completely cool and mix.
Let sit, refrigerated, for 2 hours or more.