Lentil Salad, 4 Traditional Variations
Parsley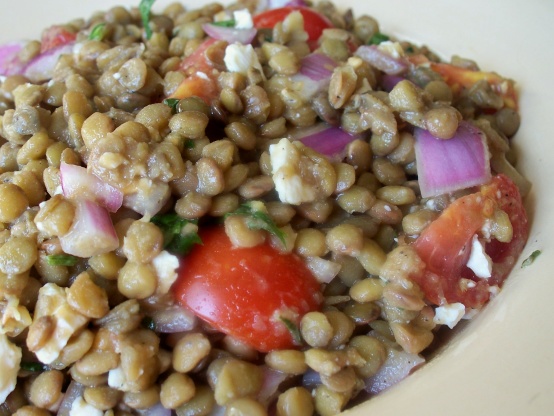 This recipe comes to me by way of "Olive Trees and Honey" by Gil Marks, a beautiful vegetarian world-view cookbook. See the bottom of the recipe, in the last few numbered steps, for the various traditions. The first version is Sephardic, a Jewish/Spanish variation, and is called "Salata de Lentejas."

Excellent. I tried the Yemenite version. I omitted the parsley/cilantro because I didn't have any and reduced the olive oil considerably, only used a couple tablespoons of tahini to further reduce calories and added a chopped carrot to the lentils as they cooked for some vitamin A. I also didn't try to mash it up (which I figured would be hard to do since the lentils weren't very soft even after 30 minutes). BF really liked it too. Leftovers were great for lunch at work the next day. I'd definitely make this again.
Combine the lentils, water and bay leaf in a large saucepan. Bring to a boil, cover, and reduce heat to a simmer. Cook until tender, 20-30 minutes.
While lentils cook, make the dressing: mix all ingredients except oil. Slowly add the oil while constantly whisking, to create an emulsion.
Drain lentils, and while warm transfer lentils to a large bowl. Drizzle dressing over lentils, and toss gently to coat.
Just prior to serving, add onion and tomato.
Ethiopian Variation (Yemiser Selatta): Heat 3 tablespoons vegetable oil in a large skillet over medium heat, add 2 chopped red or yellow onions and 2-4 seeded and minced hot chile peppers, and saute until softened. Add to the salad.
Greek Variation (Salata Faki): Add 3/4 to 1 1/2 cups crumbled feta cheese, 1/3 cup chopped green olives, and 2 tablespoons chopped fresh spearmint.
Yemenite Variation (Salata Adas): Add 1 cup tahini and increase the lemon juice to 1 cup and the parsley to 2 cups. Using a large mortar and pestle, potato masher, or a food processor, mash the combined salad into a paste.