PanNan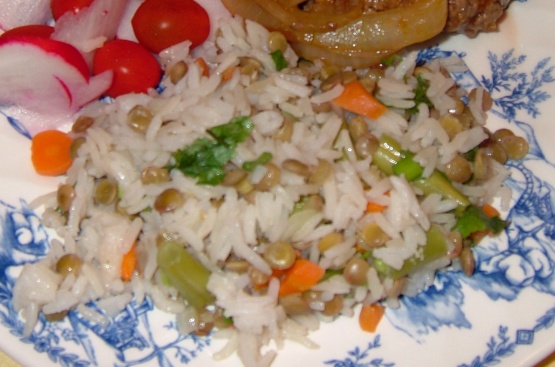 A delicious and satisfying side dish. Sometimes I add a few sprigs of chopped cilantro.

It was really satisfying and a one-dish meal for me this afternoon. I used a combo of green, yellow and brown lentils(1/4 cup). It was very nice. Next time, I plan to substitute the water to cook the rice with vegetable broth(and omit the salt) for a richer dish. Thanks for sharing!
Bring lentils to a boil in a 2 qrt saucepan with 2 cups water.
Remove from heat and let stand 10 minutes.
Meanwhile, trim and discard ends from green beans; cut into 1/2" pieces.
Slice green onions.
Mince carrot, shallot and ginger.
Drain lentils and set aside.
Heat oil in 2 qt saucepan over medium heat.
Saute green onions, shallot and ginger in oil 2 minutes.
Stir in rice; saute 2 more minutes.
Add 2 1/4 cups water.
Stir in lentils, green beans and carrot; bring to a boil, cover pot and cook 15 minutes, until rice is tender and liquid is absorbed.
Let stand 5 minutes off heat.
Stir in salt and serve while hot.