Lentil Rice Dish (Mujadarah Arabic Dish)
Hommus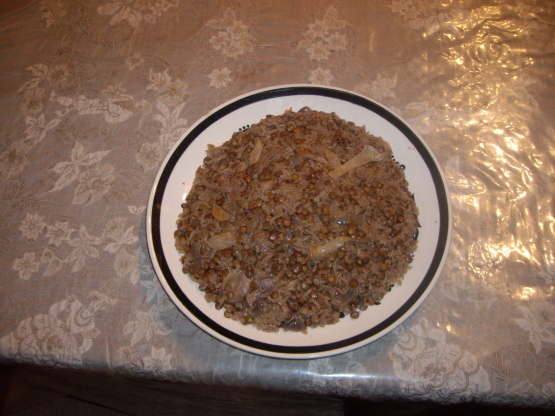 This Lentils Rice recipe is known as Mujadarah in the Arab countries. There is many different recipes for Mujadarah, this recipe is very easy to cook with little Ingredients, and besides being nutritious,it is inexpensive. This recipe is an excellent vegetarian dish. Mujadarah is can be served with finely chopped Tomatoes salad if desired. Se my recipe for Tomato Salad.

I grew up on this but we did it a bit differently. Bulghur instead of rice and it was served with Laban (arabic yogurt) and sliced onions on top. We ate it with torn pieces of pita instead of with utensils. That was always big fun as a kid and now it's less to wash!
Saute Onions with olive oil(stirring occasionally) until golden brown. Reserve 4 tablespoons of browned onions for garnish.
Place lentils,water,salt,and black pepper in different saucepan and cook over medium heat for about 20 minutes or until lentils are tender.
Add to lentils the uncooked rice,browned onions and cumin and mix. Cover and simmer for another 15 minutes or until water is absorbed and rice is tender.
Place Lentils Rice dish(mujadarah)in serving dish and garnish with 4 tablespoons of browned onions.
Mujadarah is best when served with Tomato salad. See my recipe for Tomato salad.