Chickee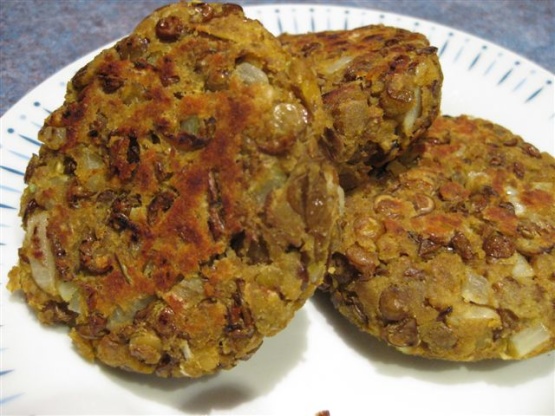 An old recipe that was given to me years ago. These make an ideal vegetarian substitute for hamburger patties. Nice with a salad and mashed potatoes or use for hamburger filling.

I made these to go with salad in tortilla wraps and we just didn't like them, they needed some more flavour? I had some trouble with the recipe as the time for cooking the lentils wasn't listed, i cooked mine for half an hour. Also there was no approximation for how much breadcrumbs- I added a cup, then after taking them out of the fridge found they were still a little soft and had to add some more but I'm afraid this made them dry. We did not like the taste of raw onion in the mix, and I found them to dry to eat without a sauce. My husband used sweet chilli sauce and I used some yoghurt. I added a teaspoon of cumin and another of tumeric and that made them just edible. If I made them again I would cook the onion first with the spices I think. Sorry.
Boil lentils in pot of water until soft.
Beat egg, add salt, thyme, turmeric and chopped onion.
Add drained lentils, stir thoroughly and add sufficient breadcrumbs to make a fairly solid consistency.
Shape into rissoles.
Chill covered in fridge approximately 30 minutes.
Heat oil. Fry until golden brown.