EllieSos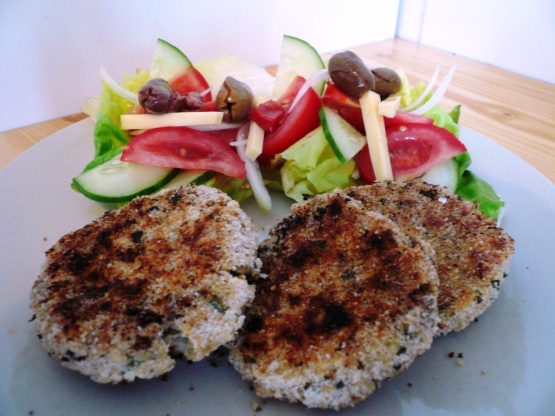 An easy, tasty recipe to serve with fresh salad... great for vege burgers too (especially with my Charged-Up Chilli as sauce! :) This is from the Australian Women's Weekly 'Great Vegetarian Food' cookbook. Serves four if made as patties and served with salad or veges; or makes about eight patties for burgers. Great for OAMC... This recipe has many possibilities - I usually add more spices than the recipe calls for; but it depends on your taste!

I have this exact recipe only it is served with a mint sauce: 1/2 cup plain yoghurt 1 tablespoon fresh mint, chopped 1 (small) garlic clove, mashed 1 teaspoon lemon juice. Try it, it makes all the difference. This is the only reason I gave it 4 stars.
Combine lentils, celery, carrot, water and spices in large saucepan.
Bring to boil; reduce heat. Simmer, covered, for about 20 minutes or until mixture thickens; cool.
Stir in half of the breadcrumbs.
Shape mixture into patties (makes about 8); toss in flour.
Dip in egg, then in combined remaining breadcrumbs and parsley.
(Can be made one day ahead at this stage and refrigerated, covered, or frozen for up to 6 months).
Heat oil in large non-stick frypan; cook patties until well browned both sides. Drain on absorbent paper and serve as desired.