Lentil-Grain Burgers My Kids Will Eat!
Parsley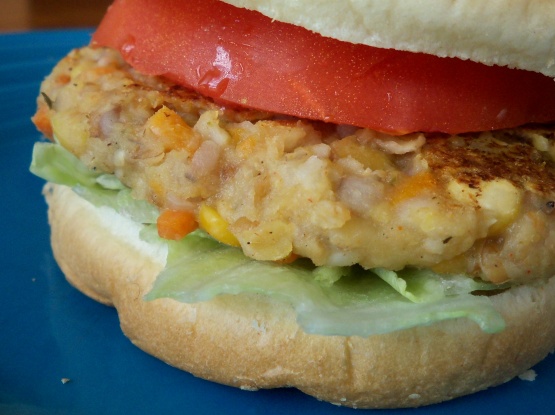 My children actually *beg* for these, and even my vegan-suspicious parents and sister had to admit they liked them. The original recipe is from the "Lean, Lucious, & Meatless" cookbook. I usually omit the cayenne and paprika and decrease the onion (I'm the only onion-lover in the house) and add ground flax and occasionally wheat germ, whatever. We eat it in pitas, on bread, with cheese, BBQ sauce, ketchup or tahini. I even stir-fry/scrambled it once when it didn't get sticky enough to make patties and served it over rice and they wolfed it down that way. We eat it quite a bit, especially during Lent. :o) Do make sure to cook it slowly enough to get really sticky or it will be very hard to keep the patties together when you flip them. It will keep several days in the fridge, chilling until you need it (prep time does not include chilling; not completely necessary in my experience, but helpful). The patties reheat well, too.

Top Review by Shaye
The taste was pretty good for a meatless burger (I substituted grilling spice for the cayenne because we don't like cayenne) but the texture is lacking. I think it needs a binder. I made it according to directions, but the first time I tried to make patties they just fell apart. I put the mix back in with more water to simmer for another 45 minutes, and it got stickier which was better. After another round of chilling, I tried to fry them up again, but even after making them stickier, they were still pretty crumbly and mushed out of the bun when we tried to take a bite of them. I'll definately eat the rest of the batch, but I probably won't make them again without coming up with some sort of binder that will make them a little more solid.
Combine all ingredients in heavy pan on med heat.
Bring to a boil; reduce heat to low.
Simmer uncovered 50 min, or until all liquid is gone and mixture is very sticky.
(Don't cook it too fast or it won't be sticky enough to hold together-- if liquid is gone and mixture doesn't seem to stick, add a little more water and continue simmering.) Stir periodically throughout and then frequently near end of cooking time to prevent scorching.
Remove from heat, place in covered container, and chill thoroughly, preferably overnight.
To cook burgers: Preheat skillet on medium, spray lightly with non-stick spray if desired.
Wet hands lightly and shape patties from approx 1/2 cup chilled mixture each.
Cook until browned on both sides-- turn carefully!