Lentil,corn and Sweet Pepper Chilli (Ww 5 Points)
Debbwl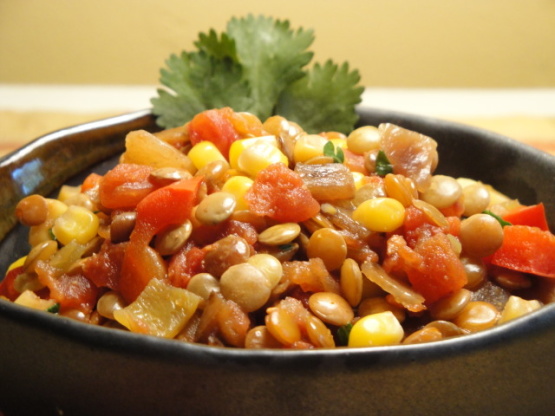 A really simple and very tasty dish,that is made better by the fact that it contains absolutely no saturated fat and no cholesterol. Great on it's own,but we equally love it made into chimichangas (using low fat flour tortillas and low fat cheese of course!!). A great vegetarian dish!!

Top Review by Debbwl
Ok have to echo what has already been said. Great flavor, very thick, super easy, and best of all no cholesterol. Also like how colorful this chili was with all the reds, yellows, and golden browns. A simple green salad made a great side for this tasty chili. Thanks for the post.
Heat non stick dutch oven.Add the oil and onion,saute until golden (about 7 mins).Add the tomatoes,stock and the lentils,and bring to the boil.
Reduce to a simmer,and cook covered for 20 minutes.
Add the corn,pepper,chillies,cumin and ground coriander and salt.
Bring to the boil again,then reduce to a simmer,cover and cook until the lentils and vegetables are soft (about 15 mins).
Stir in the chopped coriander and serve.