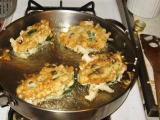 My wife recently attended a "soup seminar," put on by The County Extension Service. Here's one that she brought home that I liked quite a bit and she was crazy about it. Simple and easy. Enjoy.
Directions
Pour the vegetable oil into a large cooking pot or dutch oven. Over medium-high heat, saute the onion and garlic until golden, about 2-3 minutes.
Add remaining ingredients and stir. Bring to a boil and then reduce the heat to a simmer.
Cook uncovered until the lentils are tender, about 45 minutes.
Serve.
Most Helpful
This was very good! Served with some Irish soda bread I found on this site, we had a very filling, satisfying meal. I used fresh instead of frozen carrots, half red lentils and half brown, and I doubled all the herbs/spices. Towards the end of the cooking time, I also added 2 small, cubed potatoes. I liked this soup better with some hot sauce added (as well as some salt -- though I know that defeats the purpose of using low-sodium V8 :) ). Also, I think I would add even more chili powder than the 1 tsp I used. I'll be making this again; thanks for sharing your recipe!

Made a good number of pots of Lentil soups this past winter trying to duplicate a soup served for lunch when I was in the city. Found cooking with lentils an adventure in itself! This one came close as to taste, suspect it is the V8 juice that gives it the special flavor. Other then using fresh carrots I made as posted. An excellent lentil soup and so open to the adding of corn and such to vary - which I did when making up pots of lentil soups - enjoyed each time. Find the cup and a half of lentils a very good ratio for the soup pot. Thanks for sharing.