Annacia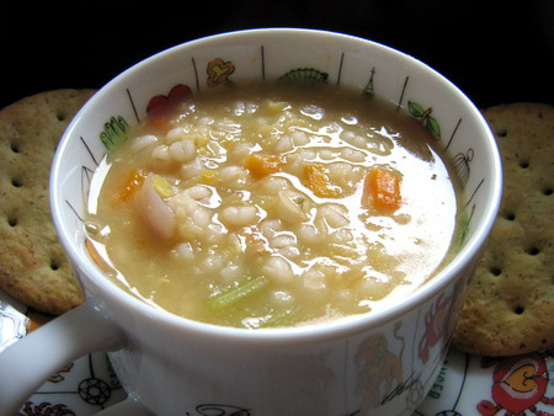 This recipe was given to me by my cousin as part of a bridal shower gift. You can easily choose to make this vegetarian or vegan by your choice of stock, using a butter substitute, and not adding the cheese at serving time.

This is quick to make for a lovely homemade soup. It's thick and hearty and the ideal thing for a cold gray Fall day. I used veggie broth and red lentils. The red ones are so small that they just cooked away into the soup. I didn't have any tomato to add but to be honest I liked this so well that I don't think I'll add them next time. All around it's a winner, healthy, hearty and yummy!
In a large (4 quart) pan or dutch oven melt butter (or margarine).
add onion, celery, and garlic.
cook until tender.
add all remaining ingredients except cheese.
bring to a boil.
reduce to simmer for 45 minutes.
serve and top with cheese.
For Vegetarian/Vegan use the Vegetable stock as your choice not the beef, and for Vegan also omit the cheese and use a non dairy Margarine. For Lacto Vegetarians you don't need to change the dairy or cheese.