katia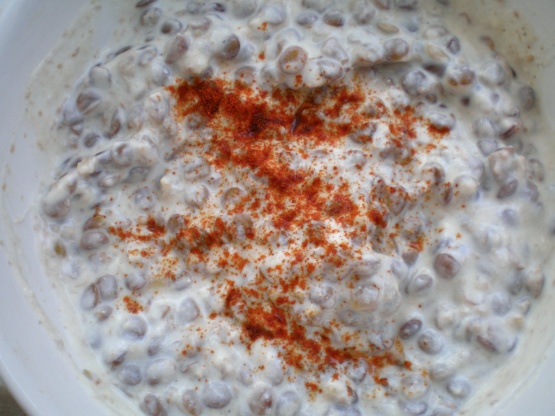 I'm trying to eat more lentils and made this recipe. If you don't mind the texture of the lentils it's pretty good and refreshing. It's also very healthy. It would probably be good with cucumber, tomato and onion added.

A really tasty salad which - because it's also so nutritious - I'll certainly make again. First, I confess to having cheated with the first few steps. I used canned lentils, well-drained of course. Because I was going to leave out the cayenne pepper - having zero tolerance of hot spices and therefore profound wariness of even a pinch of cayenne pepper - I consulted the Zaar Kitchen Dictionary for some ideas. I settled on halving the yoghurt and adding feta and lemon zest, and I followed Engrossed's suggestion of adding some cucumber, which I sliced, then chopped. Thanks for sharing this recipe, Engrossed!
Place lentils and water in a saucepan and bring to a boil.
The following is for green lentils, other kinds of lentils take less time to cook. So check your package directions. Cover and cook over medium heat for 25-30 minutes or until lentils are tender but not mushy.
Drain and allow to cool.
Place cooled lentils in a mixing bowl and stir in the rest of the ingredients.
Suggested to serve immediately but I think it's better after sitting.