Lentil and Potato Casserole
Prep 30 mins
Cook 1 hr 30 mins

This warming vegetable dish can be enjoyed as a meal or as a side. Play with the flavours and you can turn this in to a curry casserole (add curry powder instead of Italian herbs) or try Moroccan spices, Cajun spices or Hungarian spices... all delish! ------
Directions
Soak lentils in a bowl of cold water for at least 30 minutes.
Drain water and cook lentils for 20 minutes in boiling water.
Drain lentils and put aside.
Place fennel on a baking tray and spray with cooking spray and bake in a moderate oven 180 degrees for 20 minutes or until softly roasted.
Sauté onions in the oil until transparent.
Add the potatoes, tomato paste and herbs and Sauté for 3 minutes.
Add the tomatoes, lentils and stock and cook a further 10 minutes.
Transfer to a casserole dish and place the roasted fennel just under the surface.
Bake in a moderate oven 180 degrees for 30 minutes.
Serve with crusty bread or brown rice for a hearty meal of as a side to a piece of steak or chicken.
Note: Cooking time can be reduced by using canned lentils.
Most Helpful
When you combine some of my favorite ingredients - fennel, potatoes and lentils - in an easy and healthy dish, you have one happy chef. Even better, the results were hearty and tasty. My half batch gave me three generous servings. The vegetables were all done right and worked well together. My one comment was that it was a little underseasoned. Perhaps a little more basil to complement the Italian herb blend would have added something without competing with the delicate flavor of the fennel. Thanks for a delicious meal prepared as part of RSC#9.

This had potential, but I followed directions and the potatoes and fennel were more than just a tad underdone. I also used Italian seasoning as it was what I had on hand; it might have benefited from a more exotic spice mix. I only used 2 fennel bulbs myself. I recommend both roasting fennel for a longer period of time and also baking casserole for a longer time. BTW, I did note that 180 translated to 350 Fahrenheit, so I hope that wasn't the problem! Thanks and good luck!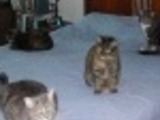 Its one excellent recipe! Fennel added great taste to the lentils and what an aroma!!! Its was the first time that I made lentils into a casserole dish. Its a keeper in my cookbook! So, its a 5 star recipe for me in RSC#9!