Lentil and Golden Squash Pot Pie
MsBindy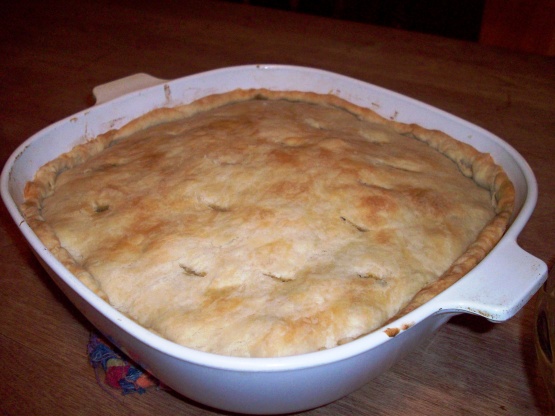 I received this recipe from a walking comrade on Walker-Tracker. It's really very good, and a lentil recipe that I am happy to add to my collection.

yummy veggie dinner! I omitted the chili peppers for DH and used acorn instead of butternut squash and it turned out lovely. I'd like it have a little more "gravy" - thanks for the recipe
In a large kettle, mix onions, garlic, and ginger.
Coarsely crush the coriander, cumin, and cardamom with mortar and pestle (or run them through a blender to make a coarse powder).
Add the spices to the onion mixture along with 1/4 cup water.
Stir occasionally over med-high head until liquid evaporates and a brown film forms in the bottom of the pan, 10-12 minutes.
Deglaze the pan by adding a little water and stir to loosen the brown bits.
Repeat step, cooking mixture dry and deglazing, until onions are richly browned, about 2 more times.
Sort, rinse and drain lentils; add them to pan along with broth.
Bring to a boil; cover and simmer 10 minutes.
While lentils are simmering, cut off peel and scoop seeds out of squash.
Cut squash into 3/4-inch cubes, making about 1 quart.
Add squash to pan; cover and simmer until lentils and squash are soft, about 15-20 minutes.
Add salt and pepper to taste.
Drain liquid from lentils and measure. Return no more than 3/4 cup liquid back to lentils. Pour mixture into a shallow 1 1/2 qt casserole. (If you are making ahead, you can cover and chill up to one day).
On a floured board, roll pastry dough to match dimensions of casserole plus about an inch on all sides.
Lay pastry rectangle over lentil mixture; folding excess pastry under and press dough firmly against casserole rim.
Pinch dough to flute edges, and brush with beaten egg.
Decoratively slash top.
Bake in 400F oven for about 30 minutes (45 minutes if chilled).