Lentil and Brown Rice Soup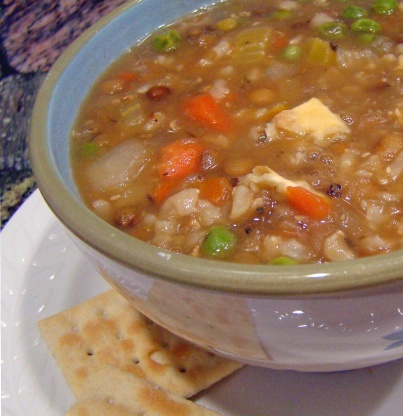 Healthful and hearty. A good soup to make a lot of and have as a stand-by in the freezer for a quick, nutritious meal.
Another winner, e/a! We have a dear elderly neighbor who is very ill, and about all he enjoys these days is a good bowl of soup. I'm always trying to find new recipes to vary his simple diet, and this one was a huge hit. So much nutrition packed into each bowl---very important when an invalid can't eat much! His wife said, "Mmm--make that again!" I will!
Directions
Combine broth, 3 cups water, lentils, rice, tomatoes with reserved juice, carrots, onion, celery, herbs and sausage and bring to boil (do not add parsley and vinegar).
Simmer, covered, stirring occasionally, 45-55 minutes, or until lentils and rice are tender.
Stir in parsley and vinegar and season to taste.
Freezer Note: I often make up a double batch of this delicious soup, freezing half the batch, to provide me with a quick, nutritious dinner further on down the line when time is short and you don't want to resort to ordering in. Just defrost in microwave, reheat well and serve