Lennie's Cranberry Mandarin Mini Loaves
HopeK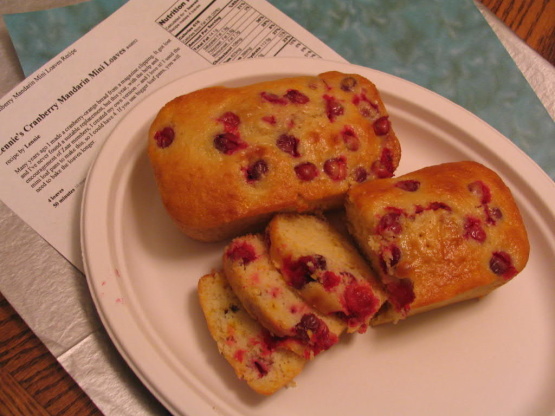 Many years ago I made a cranberry-orange bread from a magazine clipping. It got lost and I've never found a suitable replacement, but this year, with the help and encouragement of Zaar members, I created my own version -- and I love it! I used the mini loaf pans to make this, so I could have 4. If you use bigger loaf pans, you will need to bake the loaves longer.

This recipe is really good. I read the last review about tartness before I baked this bread so I added an extra 1/2 cup of sugar. Also, after the loaf (I made one large loaf instead of small loaves) had cooled I covered the entire top in an orange glaze. I think it made all the difference - helped to offset the tartness a bit. The glaze was a small mix of powdered sugar, orange juice (tiny amount), and a drop of orange extract. It dries beautifully as well. THANKS.
Preheat oven to 350F; spray 4 mini loaf pans with Pam and set aside (you could also do this in two 8x4 loaf pans, if you can't find the smaller pans, but the baking time will likely be longer).
In a large bowl, combine dry ingredients (flour, sugar, baking powder and salt); add cranberries to flour mixture and stir so berries are somewhat coated in flour-- this helps prevent the cranberries from sinking to the bottom of the loaves when baking.
Set aside.
In a separate bowl, beat eggs and milk (I used lowfat milk) with a mixer on low, then beat in 1/4 cup juice reserved from tinned oranges, the oil, the extract and the orange zest.
Stir wet mixture into dry mixture, stirring just until dry ingredients are moistened; do not overmix.
Make sure tinned oranges are well drained, then stir into batter.
Divide batter between 4 mini loaf pans (you'll find they'll be about 3/4 full).
Bake in preheated oven for 35 to 40 minutes; a tester will come out clean.
Cool on rack in tins for about 15 minutes, then remove from tins and let sit on rack until completely cool.