Rita1652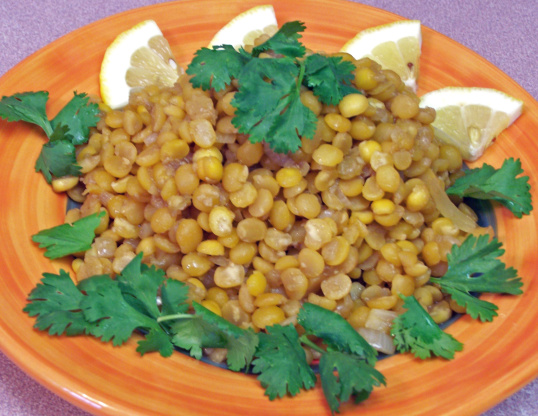 Ethiopian style yellow lentil side dish. Serve this over brown rice; injera to scoop it up. From Sunset Magazine March 2006. Awaken your senses!

Very tasty and flavorful meal. I followed the recipe except I used Extra Virgin Olive Oil instead of butter. I served this over long-grained white rice. Thanks!
In a saucepan over medium-high heat melt the butter and add the garlic. Stir and cook until just beginning to brown, about 1 minute.
Add the yellow lentils, stir to coat with the melted butter, then add the broth. Simmer, covered, until the lentils are tender but not too mushy, approximately 20-30 minutes.
The lentils will thicken as they cool down.
Stir in the fresh ginger, lemon zest, lemon juice, salt and pepper to taste. Serve garnished with fresh cilantro and lemon wedges.