This is a yummy recipe by Rachael Ray. This recipe calls for English cucumber but I think you could substitute a regular one. It also called for salt and pepper which you can add on your own.
Directions
In a large bowl, whisk together the mayonnaise, lemon juice and lemon peel; season if you want to.
Add the tuna, breaking it apart a bit with a fork, then add the beans, cucumber and onion.
Season again if you want to.
Arrange the shredded romaine in 4 plates or bowls and top with the tuna salad and tomatoes.
Tip: Add other ingredients if you want, such as olives.
Most Helpful
As Ms. Ray would say herself, Yummo! I made this exactly as posted (doubling the recipe), except I used green leaf lettuce and grape tomatoes. I also finished it off with some freshly ground black pepper. I loved this tuna salad. The white beans really added to it, too. Thanks for sharing this recipe, that I will be making again. Made for ZWT7.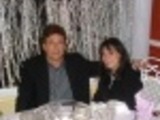 So far the best tuna mixed with beans I've had and I have tried a few. I liked the lemon in this. I used Hellman's olive oil mayonnaise to be soy free, freshly squeezed lemon juice, another kind of tuna as I don't buy white as it is higher in mercury, I did not have white beans so used kidney beans instead as that is what I had on hand, vindalia onions, cut up campari tomatoes which I mixed in, baby romaine but preferred it without, though it makes nice presentation, a little freshly ground black pepper but no salt, plus the rest of the ingredients. Made for ZWT7 Pacific Islands, for my team Food.Commandos

This made for a tasty and healthy lunch. At first I thought there would be too much mayo mixture but it ended up blending in really well and it was very tasty, too! Made for ZWT7 for the Golden Gourmets.