Lemony Shrimp and Potato Cakes With Tricolor Salsa
aeht206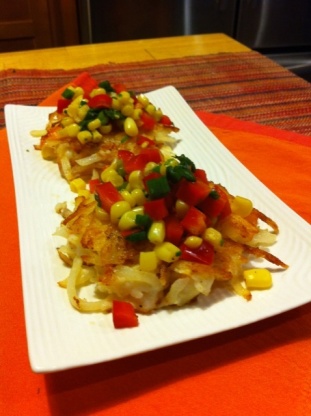 Ready, Set, Cook! Special Edition Contest Entry: Crispy, lemony shrimp cakes are topped with a bright, crunchy salsa of red bell peppers, cilantro, corn and green onions for a beautiful dish that can be served midweek for dinner or as an excellent hors d'eouvre.

Delicious, easy, light and refreshing. Loved the way these flavors tasted together. The whole family enjoyed them. I'll be making these again!
Preheat an oven to 200°F.
Make the salsa by stirring together the bell pepper, corn, green onion, cilantro, salt and 1 tablespoon lemon juice. Set aside.
Roughly chop the prawns into 1/4-inch pieces. In a large bowl, mix together the hash browns, chopped prawns, egg, 2 teaspoons lemon juice, lemon zest, salt and pepper.
Heat a large nonstick frying pan over medium high heat. Add 2 tablespoons oil. When the oil is shimmering, use a 1/2-cup measuring cup to scoop the potato mixture into the pan to make 4 patties. Use the measuring cup to press down on the patties so that they are about 1/2-inch in thickness. Cook the patties for 3 minutes or until browned on the bottom. Flip the patties over and cook another 3-4 minutes, until cooked through. Transfer the patties to a plate and keep warm in the oven while you repeat with the remaining mixture.
To serve, place 2 patties on each serving plate. Top each patty with salsa and serve immediately.