Lemony Seafood Risotto With Tarragon
Maito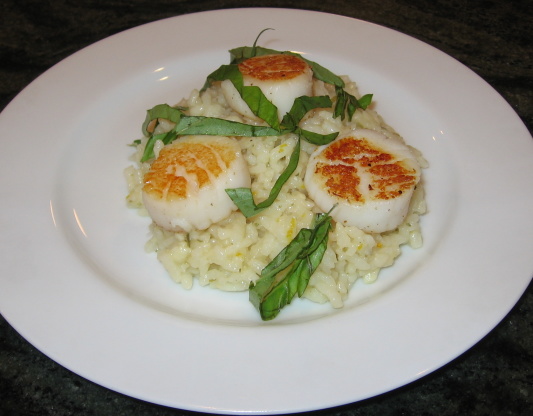 Simple to make and yet has an abundance of flavor! Add a side salad for a great healthy meal!

We almost always enjoy a seafood combo, & this was no exception ~ Very nice flavors & the dish was very easy to prepare, as well! I look forward to making this one again! Thanks for sharing it! [Tagged & made in Please Review My Recipe]
Spray non-stick cooking spray in a large deep skillet (or dutch oven). Heat over med-high heat. Saute' the scallops and shrimp, for about 2 minutes. Add the lemon zest and continue cooking until shrimp are pink and almost done. About 2 more minutes.
Remove scallops, shrimp, and zest from skillet, set aside and cover immediately to finish cooking the seafood.
Meanwhile, in the same skillet (do not wash or rinse), cook shallots and garlic until shallots are crisp-tender (adding more oil if necessary). Reduce heat to medium.
Stir in rice and stir frequently until rice begins to brown. Stir in wine and cook until liquid is absorbed, stirring occasionally.
Pour 1/2 cup of broth over rice mixture. Cook uncovered, stirring occasionally, until liquid is absorbed. Continue cooking 15-20 min, adding broth 1/2 cup at a time and stirring occasionally until rice is tender and creamy.
Add the lemon juice and tarragon. Gently stir in the scallops and shrimp. Serve with a garnish of parsley sprigs and lemon slices if desired.