Brenda.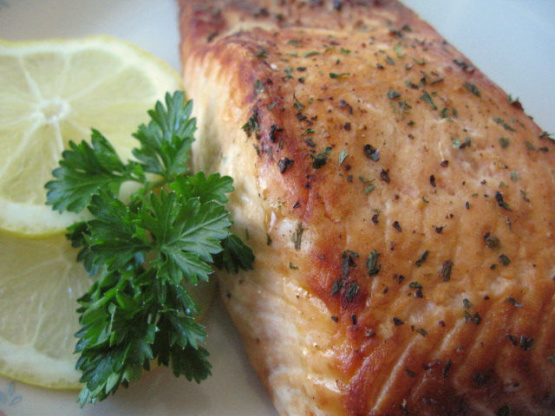 This was put together by me and my mother. My Family has fish once a week, and my mother used to just make it plain. Since I like sprucing up things, we decided to put a simple (and I mean really simple) recipe together. If you have a convection oven or an oven that includes convection cooking (like mine does, and it also allows for baking and custom broil), than try this simple recipe.

Top Review by ellie_
Great salmon - skipped the parsley but used lemon pepper as another reviewer suggested. Thanks for sharing!
Line a baking sheet with tin foil, and rest the fish on top of the tin foil.
Drizzle the lemon onto the fish.
Season with parsley, salt and pepper.
Put in a preheated 350° F oven (I used the convection method, but if your oven does not have that option, then just bake). Cook it for 30 minutes or until done.