Lemony Roasted Butternut Squash, Mushrooms, Broccoli, Carrots
ImPat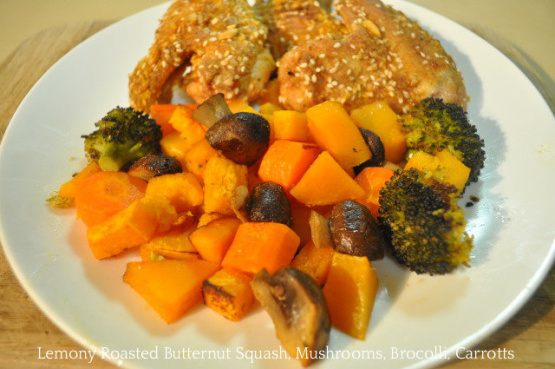 Lemony, savory roasted vegetables, using what was on hand!

Top Review by ImPat
Scaled back for 3 serves and well we were battling to get through it but loved the flavour of the vegies so much we gobbled up nearly all of it, the only change I made was that my baby porta bella mushrooms were rather big (4 = 4oz) so I quartered them to get bit size serves, otherwise made to recipe, thank you Kerfuffle_Upon_Wincle, made for Photo Tage game (under 24 hour rule).
Preheat oven to 425°F If using a glass casserole, reduce oven temperature to 400°F.
Prepare the vegetables: peel the butternut squash, remove seeds/pulp and cut into bite-size pieces; wipe the mushrooms clean and leave whole, cut the broccoli crown into pieces, peel or scrub the large carrots, and cut into 2-3" pieces.
In a large bowl, combine the juice of one lemon, garlic powder, coriander, pepper, salt, and raw sugar. Toss cut vegetables to coat with lemon juice mixture.
Spread the vegetables in a single layer, in a 10x15 pan with shallow sides, or any large casserole to accommodate a single layer of vegetables. NOTE: If using a glass casserole, please reduce the oven temperature to 400°F.
Roast uncovered for 15 minutes. Turn vegetables over, and continue to roast for another 10 minutes.