Lemony Ricotta Summer Squash Galette
jbeanie1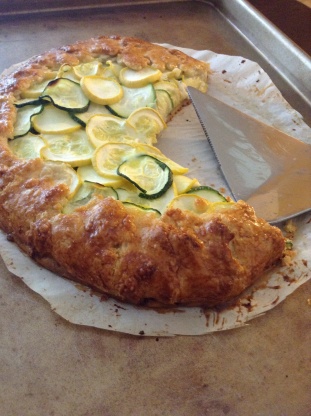 Using refrigerated piecrust takes all the hard work out of this weeknight-friendly dish. The key to a successful galette is a filling that doesn't become runny while baking. Salting the squash helps remove the excess water so you don't end up with a soggy crust

Delicious! I made this today for lunch and it was the star of the meal. I used yellow squash and zucchini, added 1/4 cup fresh herbs (lemon basil, chives, green onion) to the ricotta mixture, and used a homemade pie crust. Yummy way to use up all those summer squash. Will definitely make again.
1. Sprinkle zucchini lightly with salt. Transfer to a colander; drain for 15 minutes. Pat dry with paper towels. Preheat oven to 400°F.
2. Meanwhile, on a large piece of lightly floured parchment, roll dough to a 12 inch circle. Transfer parchment and dough to a large baking sheet; set aside.
3. For ricotta filling, in a medium bowl whisk together ricotta, Parmesan, mozzarella, garlic, 1 teaspoons of olive oil, lemon peel, lemon juice, salt, and pepper. Using a spatula, spread ricotta filling over dough. leaving a 11/2-inch border. Top with squash rounds. Drizzle with remaining olive oil Gently fold over pastry edges, pleating as necessary.
4. In a small bowl whisk together egg yolk and 1 teaspoons water. Lightly brush pastry edges with egg mixture. Transfer galette to oven. Bake 35 to 40 minutes or until edges are golden brown. Sprinkle fresh dill weed, if desired Serve warm or at room temperature.