Lemony Rice With Olive Oil Drizzle
Kathy228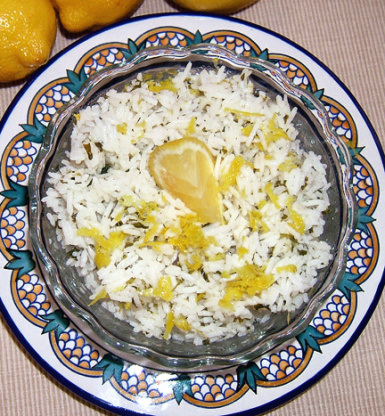 This rice is subtly lemony with hints of cilantro and garlic. The addition of olive oil at the end makes the dish. Use only a good, fresh oil. Goes well with fish, chicken and Hispanic dishes.
Combine all ingredients except lemon, rind and oil in a pan.
With your hand, squeeze the 1/2 lemon's juice into the pot, then toss it into the pot.
Simmer, stirring occasionally 'til rice is not crunchy anymore.
Remove rice from heat and remove lemon. Squeeze the remaining juice from it, being careful not to burn your fingers. Stir in one half of the grated lemon rind.
Cover pan with a folded towel and let set for 5-7 minutes.
Fluff with a fork.
Taste to adjust seasonings such as salt.
Pile into a serving dish.
Sprinkle with the reserved lemon rind.
Drizzle on a little fresh olive oil if desired.