Lemony Glazed Pineapple Upside Down Gingerbread
Pixie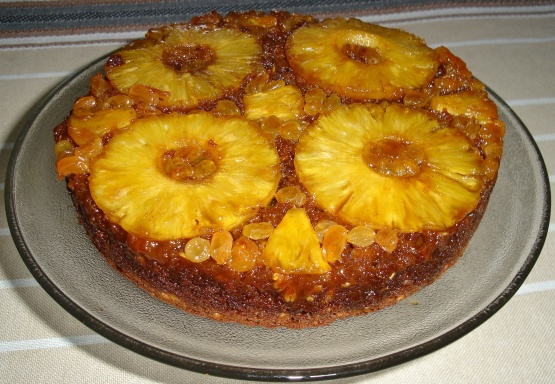 This is a delicious not too sweet treat, excellent with a mid afternoon cup of coffee or tea or even for a special breakfast. The moist gingerbread oat base combined with the sweet glazed pineapple that has slight lemon tang is a perfect match. Although the grated apple does not provide much flavour, its addition results in a moist and delicious product. ----Recipe created by me for RSC #10!

I just used the topping part of the recipe, with another favorite gingerbread cake. We were very pleased with this addition. I'd add just a touch more lemon juice next time, to get a little more flow for evening out the topping in the pan.
Spray an 8" round baking dish with cooking spray. In a small saucepan or in a microwave safe bowl, combine the brown sugar and margarine. Heat on low heat (or in the microwave on med/low power for 30 seconds at a time) just until the margarine melts and the sugar starts to dissolve. Add the lemon juice. Pour into the bottom of the prepared 8" dish.
Place pineapple slices on top of the brown sugar mixture in a decorative manner. You may cut a pineapple slice in 4 to fill in the smaller places. Fill the middle holes of the pineapple slices with raisins. Sprinkle the rest of the raisins over the pineapple. Set dish aside.
In a medium bowl combine flour, oats, baking powder, baking soda, cinnamon, ginger, and allspice. Set aside.
In a larger bowl, beat together margarine and brown sugar. Whisk in the egg, molasses and milk.
Add the bowl of dry ingredients to the wet ingredients, stirring just until mixed. Fold in the grated apple.
Bake at 350°F for 40-45 minutes or until a toothpick inserted in the center of the cake comes out clean. As soon as the cake is out of the oven, place a serving plate over the cake and turn the cake over. Remove the dish. If any pineapple pieces stick to the dish, gently place them back in their place.