Karen..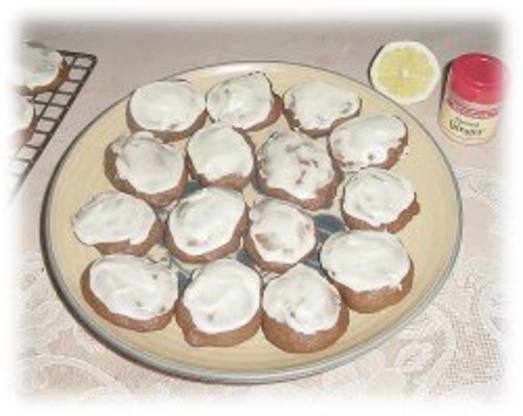 This is in response to a request on the discussion boards. I haven't tried it myself.

These were very good and unique. A step up from traditional cookies like chocolate chip. Mixed reviews from the family...those of us who enjoy spiced wafers and ginger snaps LOVED these (I think my husband ate about 10 in one sitting :)! The couple of kids who do not like those types of cookies did not care for these either. This was fairly easy to prepare and I got 40 cookies out of the recipe. The only thing I changed was using butter instead of butter flavored shortening. In my oven, 8 minutes was the max. Watch while cooking...they are dark brown and you can't really see if the bottoms are burning. Thanks for posting!
Adjust two racks to divide the oven into thirds.
Preheat the oven to 375 deg.
F.
Lightly grease two baking sheets.
In a medium-size bowl, with a whisk, combine the flour, baking soda, lemon zest, salt, ginger, cinnamon, and cloves until thoroughly mixed.
In a large bowl, with an electric mixer at medium-high speed, beat the sugar, shortening, molasses, water, and egg until creamy, 1 to 2 minutes.
With the mixer at medium-low speed, gradually add the flour mixture, beating just until blended.
Let stand for 5 minutes before dropping by rounded teaspoonfuls onto the prepared baking sheets, spacing the drops about 2 inches apart.
Bake for 8 to 12 minutes until the edges are pale golden brown.
Reverse the baking sheets on the racks and from front to back once during baking.
With a wide turner, immediately transfer the cookies to wire racks to cool completely.
While the cookies are cooling, make the icing.
In a small bowl, beat together the confectioners' sugar, lemon zest, butter, and lemon juice.
Gradually add the milk until the mixture reaches a good spreading consistency.
With a small spatula or a butter spreader, spread thinly over the cooled cookies.
Let set until the icing hardens, about 1 hour.
Store in a tightly covered container, separating the layers with sheets of waxed paper.