Lemony Garlic Fingerling Potatoes
GaylaJ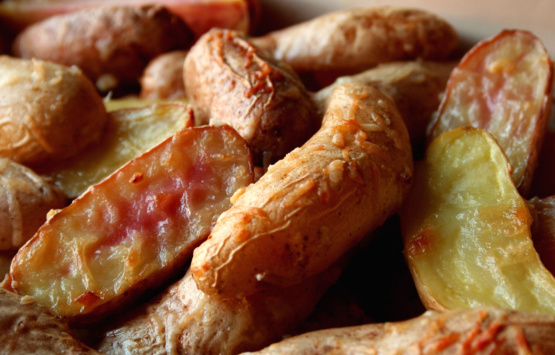 Makes a gorgeous presentation if you can find a medley of fingerlings (multi color).

Delish! Loved these roasted potatoes - the lemon really makes the flavor pop. The only change I made was to scale back the olive oil quite a bit. Will definitely make these delicious potatoes again. Made for Spring PAC, May, 2014.
Preheat oven to 425°F.
Place potatoes in an 8" x 8" baking dish.
In a small bowl, combine melted butter, Olive oil, garlic, salt and lemon juice.
Pour over potatoes and stir to coat.
Sprinkle parmesean cheese over potatoes.
Bake, covered in a preheated oven for 30 minutes.
Uncover and bake an additional 10 minutes, or until golden brown.