Lemony Garlic-Butter Chicken Breasts
Redsie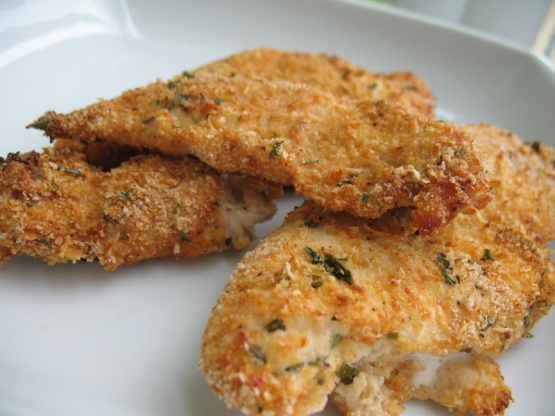 This is truly a garlic-lover's chicken recipe, you can adjust the amount of garlic to suit taste.

Made these tonight and yum - SO good! I didn't have any seasoned bread crumbs, so I just used plain and it worked out fine. The family agreed this is one to keep. Thanks for sharing!
Set oven to 350 degrees.
Butter an 11 x 7 or a 13 x 9-inch baking dish.
In a shallow dish combine the breadcrumbs with Parmesan cheese, seasoned salt, black pepper, garlic powder and dried parsley (if using) until well combined.
Place the milk in a bowl,.
In the small bowl whisk together the melted butter with 1 tablespoon fresh minced garlic (or to taste) and lemon juice.
Coat the chicken breast in milk (shaking off any excess milk) then coat into the breadcrumb mixture.
Place the breasts into baking dish, then drizzle with the melted butter mixture.
Bake uncovered for 25-30 minutes or until the chicken is cooked.