Lemony Fresh Asparagus With Thyme
BecR2400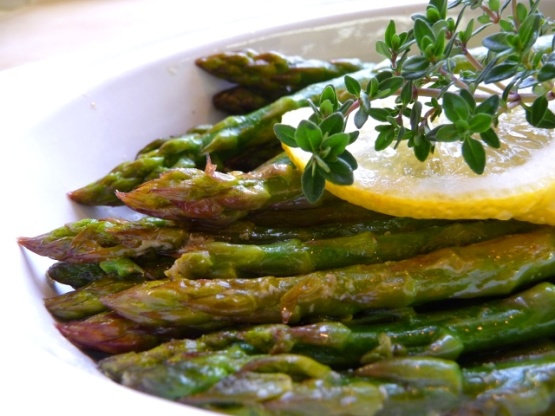 It's amazing how something so simple can be so good! Fresh asparagus spears sauteed in extra virgin olive oil with garlic, lemon thyme, Dijon mustard, and fresh lemon. Delicious! I will never go back to plain old steamed asparagus. Serve either hot, cold, or at room temperature. This is a great make-ahead dish.

I really enjoyed this recipe. It is also a nice change from the balsamic vinegar ones. The lemon is a more subtle flavour & the mustard gives it the tang. I'm not a huge fan of Dijon so I substituted Deli mustard for some of the Dijon. It was very tasty & easy to make. Thanks for sharing.
Warm the olive oil in a large saucepan over medium heat. Add the garlic and saute for 3 minutes.
Add the asparagus, thyme, Dijon mustard, lemon zest, lemon slices, and salt & pepper; stir to combine.
Cover and cook until tender-crisp, about 5 minutes, stirring occasionally. Do not over cook.
Arrange on serving platter and squeeze with fresh lemon juice.
Serve hot, cold, or at room temperature.