Lemony Flank Steak Skewers With Lemon Dipping Sauce
diner524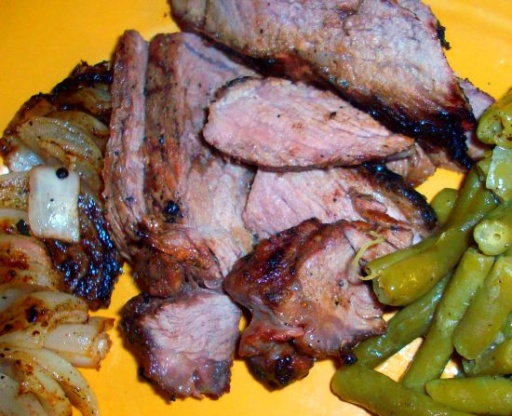 Since I make this recipe for my BBQ get togethers, the amounts I have listed will make a ton of skewers, you might want to reduce the recipe to half and only use two steaks which should give you about 20-25 skewers (yield is only estimated) or make the complete recipe to feed a crowd! The amounts stated for the dipping sauce will yield about 4-1/2 cups, you might also want to reduce to half. To save time slice the meat a day ahead, and to make slicing easier, partially freeze the steaks before slicing for about 15 minutes. Plan ahead the dipping sauce needs to be chilled for a minimum of three hours before serving, or make 24 hours in advance, and the beef strips needs to marinade for 8 hours. This recipe also works well using pork strips! This is delicious, and a real crowd-pleaser!
When I saw that a cook-a-thon was going on for you and knew my son wanted marinated steak, I looked for your steak recipes and luckily found this recipe. I just love lemon so I started the marinade right away and but in a 3/4 lb. sirloin steak. I cut the recipe in half and followed as written except didn't cut the steak for skewers. It didn't marinade the full 8 hours, only 5-6 hours, and the last hour was out at room temperature. I then put it on the grill, at which point I added seasoned salt and pepper, and cooked to med-well. My 16 yo DS and I really enjoyed this steak and will definitely make it again, and try other meats!!! Served it with grilled onions, baked potato and green beans!!! Thanks for sharing Kit.
For the flank steak; in a bowl combine the oil, zest, lemon juice, garlic, Tabasco and black pepper; transfer to a large heavy-duty Ziploc plastic bag.
Add in the sliced beef and seal bag tightly; turn to coat the beef with marinade.
Refrigerate for 8 hours.
For the dipping sauce; combine all ingredients in a glass bowl; cover and chill a for about 3-24 hours before using.
Soak the wooden skewers in water for 30 minutes.
Remove the beef from marinade and discard the marinade.
Thread each slice of marinated steak onto 1 skewer and place onto a large baking sheet.
Season each beef skewer with seasoned salt and more black pepper.
Place on a medium grill (about 350-375°F).
Grill until desired doneness (I usually grill them for about 8 minutes turning once or twice).
Serve with lemon dipping sauce.
Delicious!