Lemony Chicken With Fresh Coriander (Madhur Jaffrey)
rpgaymer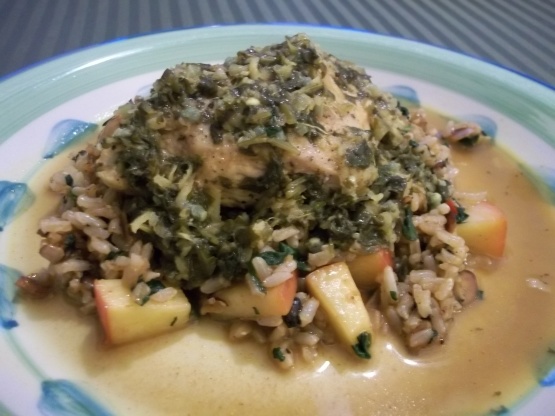 A stove-top method. Taken from the expanded new edition of her classic best-selling book, Madhur Jaffrey's Indian Cooking, this is the recipe that Jaffrey says took the spice out of a major city in England. As she explains it: "My new book was first published in England, by the BBC. Shortly after it came out, The Manchester Guardian ran a story which said that the city had run out of fresh spices: Everyone was making Lemony Chicken with Coriander!"

This chicken was incredibly delicious - so moist and flavorful. It had all the spices that I love and of course, cilantro is a favorite at our house. Definitely worth every star and then some! This would be a great dish for entertaining and I plan keep this recipe handy. In fact, it is going into my Best of 2012 recipe file. Made for Everyday is a Holiday tag, July, 2012.
Put the ginger and 1/4 cups water into a blender or processor. Blend until you have a paste; set aside.
Note: The original recipe doesn't call for seasoning the chicken prior to browning, but I prefer the way the salt and pepper penetrates at this level. Also, I cut the breasts in half. Proceede by putting the oil in a wide, heavy pan over medium-high heat. When the oil is hot, put in as many chicken pieces as the pan will hold in a single layer and brown on both sides. It's not necessary to deeply brown because of the additional cook time later and they may become dry. Remove the chicken pieces with a slotted spoon and put them in a bowl. Sear all the chicken pieces this way.
Add the garlic to the hot oil. As soon as the pieces turn a medium-brown color, turn heat to medium and pour in the ginger paste. Stir-fry it for a minute. Add the fresh coriander, jalapeno, cayenne, cumin, coriander, turmeric and salt. Stir and cook for a minute.
Put in all the chicken pieces as well as any liquid that might have accumulated in the chicken bowl. Add 2/3 cup water and the lemon juice. Stir and bring to a boil. Cover tightly, turn heat to low and cook for 15 minutes.
Turn the chicken pieces over. Cover again and cook another 10 to 15 minutes or until the chicken is tender. If the sauce is too thin, uncover the pan and boil some of it away over a slightly higher heat.
Serve with basmati rice.