Lemony Brown Sugar Baked Rice Pudding
Annacia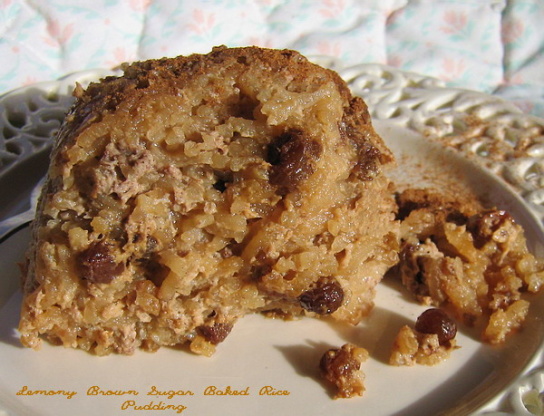 I added in dried sweet cherries in place of the raisins, it is simply outstanding! Remember if you are using dried cherries, make certain to purchase the sweet dried cherries, not the tart kind! Just a hint, wash your rice with cold water under a strainer before using!

This was made for DH. I used the requested size of pan and the milk and half and half with the rice filled it to within 1/2 inch of the top. When it came time to add the raisins and water I was able to add all of the raisins but there was no possibility of adding any of the water. It baked up firm and DH says that it has a good flavor but it's not at all creamy. That might not have been the case had I been able to add the water. There was really no lemon flavor either as the lemon juice was in the water. I would advise anyone who makes this to use a 2 quart dish, you'll need it to hold all of the liquid.
Set oven to 325 degrees.
Grease a 1-1/2-quart baking dish.
In a saucepan, heat the water and lemon juice to boiling.
Remove from heat and drop in the raisins (or dried cherries if using).
Let sit for 3-4 minutes to absorb the liquid and plump up.
Combine the rice with milk and half and half cream, brown sugar and salt in the prepared baking dish; mix to combine.
Bake for about 1 hour, stirring often so the rice doesn't settle to the bottom.
Remove from oven and stir in the lemon juice/water/raisin mixture with the lemon rind and the cinnamon.
Return to oven and bake for about another 1-1/2 hours, or until the milk is absorbed.