Lemons & Limes With Vinegar & Salt Brine
Kathy228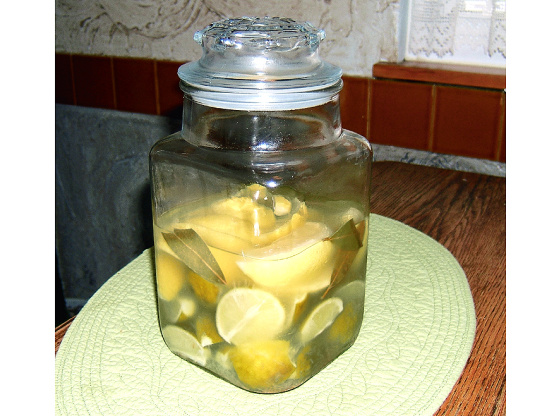 This recipe gives you fruit to use in recipes, drinks or cut up and eat. The plus is a citrus vinegar to add to salad dressings or marinate meats and fish. This vinegar can be used in cake mixes such as "crazy cake or add a little in a lemon cake, if you wish.

A fabulous recipe for lemon and lime lovers! This is an excellent condiment - an unusual way to preserve lemons and limes. It makes a refeshing citrus water by adding a tsp of the vinegar and half a sliced lemon to the glass. I also used the vinegar on a salad along with a sliced-up lemon and olive oil. It's delicious sprinkled over rice that has been sauteed with onions. To the brine I added four cardamon pods. Many possibilities. Thanks MHS.
Also will need 1 glass jar, gallon size, with lid.
Hit the lemons and limes on all sides of the counter top, bruising them but not breaking the skin. Set aside.
In saucepan heat the vinegar and salt, stir until dissolved, cool slightly.
On a cutting board with raised edges, slice each fruit into wedges, limes 4 wedges, lemons could be up to 6 wedges. Remove seeds.
Place in the jar with the bay leaves. Add the heated liquid.
Stir around with a large wooden spoon.
Add more white vinegar to cover.
Place a piece of waxed paper over the jar.
and then screw on the lid. The waxed paper will be between the lid and the jar.
Sit on the counter top for about a day,.
then refrigerate. Use after 3 days.
Cooking time is only heating the salt and vinegar.