Lemongrass Gyoza (Pot Stickers/Dumplings)
Bergy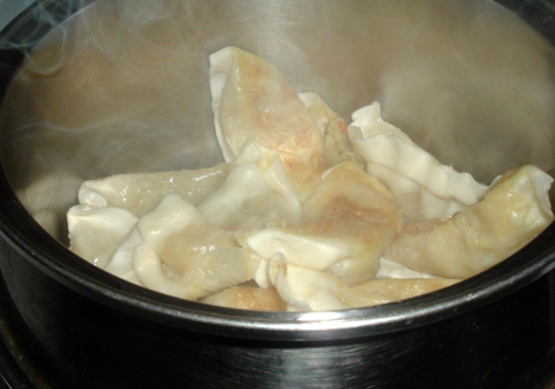 I had some dumplings at a tasty tea house in West Philly. Sadly, the dumplings were not nearly as good as the tea. I thought I could do better. You could use this as a filling for spring rolls too (definitely include the noodles for this).

Top Review by Bergy
Excellent filling. I used rice paper wrappers and fluted the triangle edge with a fork. These freeze really well. When I take some from the freezer I will fry them in a skillet with some chicken or veggie broth. Served with a sweet Thai Chilli sauce Excellent Thanks
Heat wok and stir-fry lemongrass, garlic, and ginger in a bit of oil for one minute. Throw in onion and miso soup and simmer for 5 minutes.
Add carrot, bean sprouts, red bell pepper, and tempeh and cook for 2-3 minutes, stirring to prevent sticking.
Add soy sauce, rice vinegar, red pepper flakes, and maple syrup. Stir, then add cellophane noodles and mix thoroughly to coat.
Add scallions and cook for one minute.
Place about 1 tbsp of mixture into each wrapper, moisten edges (using soymilk or egg substitute works better than water), and seal.
Steam for about 3 minutes.