Lemongrass Beef and Onion Noodle Salad (Bun Bo)
Chickee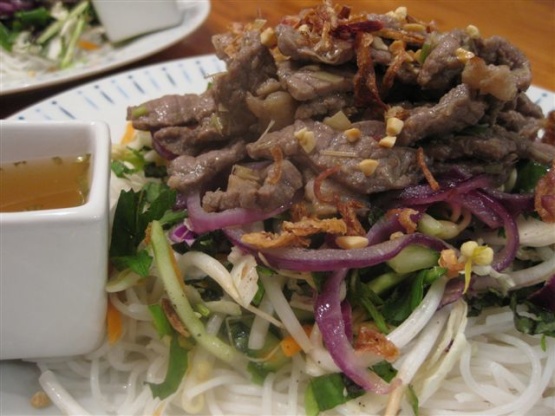 This light and fragrant Vietnamese dish can be made even faster, if you used a pre-purchased Nuoc Cham. I also use a purchased fine coleslaw mix instead of the lettuce and carrot in the salad, and finally, I use a meat cut called "Sizzling Steak" from Woolworths which is already in very thin steaks, so you only need to slice these up- much less to chop and very impressive looking meal! Cooking time does not include marinating time.

Well, a 9 year old, a 48 year old, a 65 year old and the cook, 70, RAVED ABOUT THIS RECIPE!<br/><br/>You can buy Lemongrass powder and use 1 teaspoon per fresh lemongrass; either can be purchased in a store catering to Asians. There were only 4 main dish servings for us so if you have more FRIENDS to serve keep that in mind. <br/><br/>The 30 minute prep time is probably for those who can chop, dice and shred faster. Freeze the flank steak until firm in order to slice thinly on the diagonal with more ease.<br/><br/>If fish sauce might be an obstacle by the time the sauces and marinade are made and the dish is ready for serving the fish sauce melds with the other tastes. I bought Red Boat Fish Sauce since I am not familiar with the other names and chose cost as a determining factor of which to buy.<br/><br/>We voted to make it again! Thanks Chickee!!!
Nuoc cham dipping sauce

1

large garlic clove

1

red fresh chili pepper, seeded
1⁄4 cup fresh lime juice

5

tablespoons fish sauce

3

tablespoons sugar

6

tablespoons water

2

tablespoons grated carrots

Noodles

3⁄4 lb dried rice vermicelli, soaked in warm water for 15 minutes

Salad

4

cups finely shredded lettuce
1⁄2 English cucumber, peeled and finely julienned

2

cups bean sprouts

1

carrot, peeled and finely grated
1⁄2 cup coarsely chopped fresh Thai basil
1⁄2 cup finely shredded fresh mint leaves

Lemongrass beef

1

lb flank steak, thinly sliced against the grain

2

stalks lemongrass, very finely chopped

6

garlic cloves, minced
1 1⁄2 tablespoons fish sauce
1⁄2 teaspoon sugar
fresh ground pepper, to taste

3

tablespoons vegetable oil

1

large red onion, very thinly sliced

To serve

1⁄2 cup chopped unsalted dry roasted peanuts
fried shallots, for serving
To make the dipping sauce: In a mortar, pound together the garlic and red chili with a pestle until pureed (or pass the garlic clove through a garlic press). Mix in the lime juice, fish sauce, sugar and water and add the carrot. Set aside.
Noodles: Drain the noodles in a colander, then pour boiling water over them. Let them sit in the hot water for about 5 minutes until tender. Drain, rinse thoroughly with cold running water and drain again. Set aside.
Salad: To make the salad, in a large bowl, toss together the lettuce, cucumber, bean sprouts, carrot, basil and mint.
Beef and onions: In a mortar and pestle, pound together the lemongrass, 3 garlic cloves and sugar until it is well combined. Add fish sauce and pepper to produce a paste. Add one tablespoon of the oil, mix well and add the meat; cover and set aside to marinate for at least 30 minutes.
Preheat a wok or deep-fry pan over medium-high heat. When the pan is hot, add the remaining 2 Tbs. oil and the remaining 3 garlic cloves and stir-fry until light golden brown, about 30 seconds. Add the onion and stir-fry until the layers separate, about 30 seconds more. Remove the onion and garlic from the pan.
Add additional oil if the pan is dry (it shouldn't be). When the oil is hot, add a batch of the beef mixture and spread it over the bottom of the pan. Cook until the beef is nicely seared on the bottom, about 1 minute. Turn the beef over and sear the other side, about 1 minute more. Transfer the beef and onion to a plate. Fry the remaining beef mixture in batches.
When all of the beef is seared, return the beef and onion to the wok and toss for a few seconds to reheat if required.
To assemble: Divide the salad and noodles evenly among 4 shallow bowls or plates. Spoon one quarter of the beef-onion mixture over each salad. Garnish with the peanuts and fried shallots. Pour the dipping sauce into individual bowls and encourage diners to toss the salad to their liking, and add their own nuoc cham to taste.