Lemongrass and Beer Shrimp
Rita1652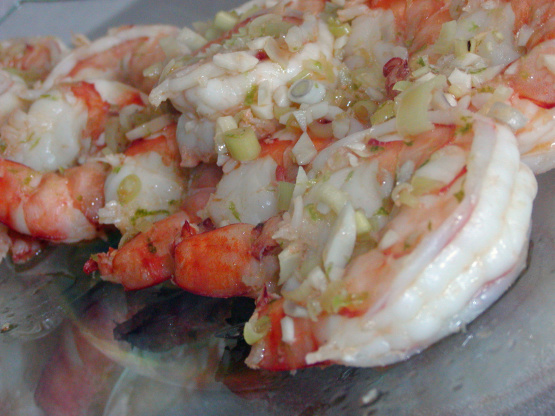 This is a dish with layered flavors; a complex taste yet so easy to prepare. I use a light Belgian beer (Hoegaarden) for this one but any light (not necessarily LITE) beer should do (if I was in the US, I might try Corona?). I like to serve these with sesame noodles on the side. Preparation time DOES include 30 minutes marination.

In my opinion all healthy food is expensive, and this is not only healthy, but very simple to prepare. I found everything I needed and trust me, I live in "the hicks". I made this for my family, including my four and six year old, over a bed of rice, and there was nothing left. Thank you for sharing this recipe!
In a bowl large enough to hold the shrimp, mix the garlic, sugar, fish sauce and lime zest.
Peel away and discard the tough outer layers of the lemongrass stalks, till you reach the tender centers; finely mince these and add to the marinade.
Add shrimp, mix well and allow to stand 30 minutes, refrigerated.
When ready to cook, heat the oil in a wok; when smoking add the shrimps with marinade and cook until they are just pink on both sides (2-3 minutes, stirring all the while.
Add the beer, cover and "steam" on a high heat for 6-8 minutes (depending on the size of your shrimp).
You probably will have a quantity of liquid remaining in the wok, so remove the shrimps with a slotted spoon.
Serve immediately with lemon or lime halves if desired.