KateL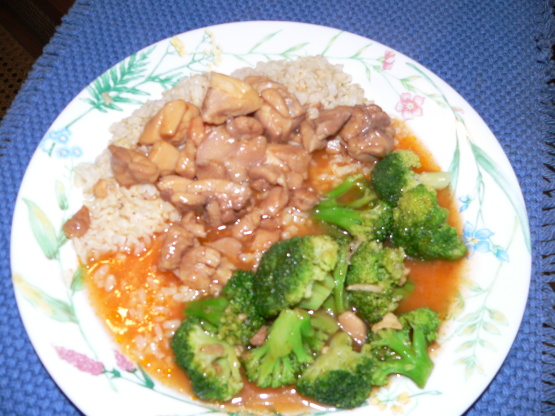 Great... easy to freeze... wonderful for kids.

Top Review by KateL
"5 Stars! Is there more sauce?" demanded DH. This is a delicious casual dish, and picky eaters will argue they didn't get "their share". I browned the chicken cubes in 3 batches, and drained in a colander. I served over brown rice (healthy, but white rice would have provided better contrast) with steamed broccoli on the side, with sauce over all. The sauce is sweet due to the brown sugar and catsup, but you can distinguish the bite from the lemonade and apple cider vinegar. The sauce comes out orange, similar to duck sauce, so please serve with a strong green contrast. Blanched chopped red peppers could also aid the presentation, although DH didn't care one whit how it looked. DH wants it again tomorrow night! After modest portions for dinner, I had enough for two more dinners for two, plus a freezer bag of 3/4 cup sauce to play with. When a recipe receives an emotional response such as this, it deserves 5 stars. This was part of Zaar's Alphabet Soup Game.
Brown Chicken in oil.
Combine all ingredients except cornstarch and bring to a boil.
reduce heat.
cover and simmer about 40 minutes until tender.
combine cornstarch with 1/2 Cup COLD water and mix until blended.
Stir mixture into chicken mixture until thick and bubbly.
Allow to cool if you want to freeze it. If frozen, may need a little extra water when reheating. Serve over rice or noodles. Great with frozen green beans mixed in!