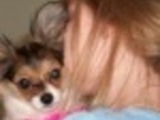 This makes a pretty white cookie and can easily be changed to make orange flavored cookies.
Directions
Preheat oven to 375 degrees.
Combine flour, baking soda, baking powder and salt; set aside.
In a large bowl, combine sugar, yogurt, eggs, oil, lemon peel and lemon juice; stir until well blended. Add dry ingredients; stir until dry ingredients are moistened.
Drop by rounded teaspoonfuls, 2 inches apart on baking sheet coated with non-stick spray. Bake for 9 to 12 minutes or until edges are slightly brown. Cool 1 minute; remove from baking sheet to wire rack and cool completely.
Most Helpful
These are indeed very pretty cookies and are easy to make. They are not very lemony though, we can barely taste it despite using the juice and peel of a whole lemon - much more than was called for anyway. The texture is rather cakey, as expected, and I took extra time beating the sugar in per the comments of the last reviewer.
This was a nice easy recipe. I cant evaluate it too fairly though, because I had to substitute a few things. I used plain vanilla yogurt, orange instead of lemon, and becasue the yogurt was not citru flavoured, I added 4 teaspoons of juice and extra zest. The sugar turned out a bit grainy, but next time I'll just mix it for a bit longer. Also next time, I'll put 6 teaspoons of juice and see how I go. Thanks for posting though!