BecR2400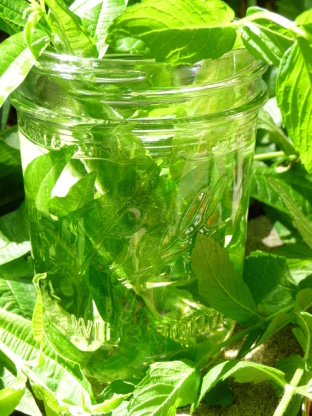 If you've never tried water infused with Lemon Verbena, you're missing a refreshing flavor of summer! So simple, for so much flavor! Also, adding a couple of leaves to a cup of hot tea adds a whole new dimension, and is a great pairing with iced tea. A beautiful and tasty herb which will grace your garden.

Simple and good! I used at least a cup of fresh lemon verbena, and left my jar out in the sun for several hours. Loved the simplicity. Could also be left to steep overnight in the fridge. Thanks for sharing, Claire de Luna. Made for Magic of Herbs '10.
2 -3

sprigs lemon verbena (6-10 leaves each)
1⁄2 gallon water
Rinse the Lemon Verbena and add leaves to a 2 quart jar of water.
Set in the sun, as if making sun tea.
Enjoy the infused favor of Lemon Verbena!