Prep 40 mins
Cook 10 mins

I like to swing by my fish guy and pick up the steaks, then zoom home, marinate and grill (or broil) for a nice, after work treat! YUM! We like these with rice and steamed broccoli. Prep time includes marinate time
Directions
Place the swordfish in a shallow bowl.
Whisk the lemon juice, shallots, garlic, mustard, oil and thyme in a small bowl; season with the pepper.
Pour over the swordfish.
Marinate, covered, at room temperature for 30 minutes, or in the fridge for several hours.
Set up your gas or charcoal grill and brush the grill rack with oil.
Arrange the swordfish on the rack; grill for 3-4 minutes on each side, or until seared on the outside and cooked through.
Reviews
Most Helpful
We loved the taste! Took the recommendation of other reviewers and squeezed extra lemon after the fish was grilled.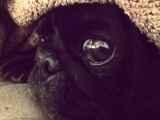 Very tasty if you like swordfish. Squeezing extra lemon on the fish makes it even better!