jo_mama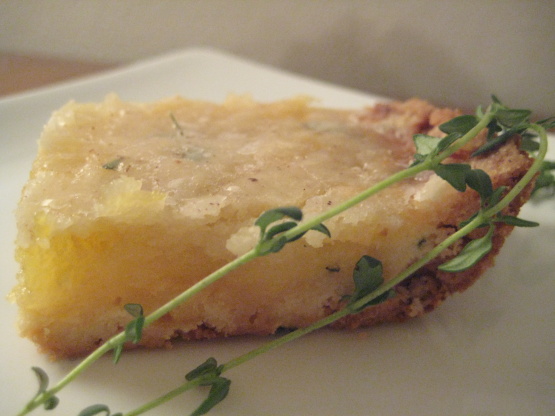 Modified from a recipe in the Penzeys ONE magazine, it derives a distinctive flavor with spices not normally seen in lemon bars. These are even better the second day.

Light, lemon-y and delicious; just what a lemon bar should be! Next time I'll try doubling the thyme in the crust and filling, since the current amount provides a very mild taste (almost imperceptible). Modifications: -used fresh thyme instead of dried -used zest of two lemons for filling -used juice of 1.5 lemons for filling -added ~1 tsp fresh thyme to filling -added ~1 tsp of salt to the filling -used juice of .5 lemon for glaze and enough powdered sugar for right consistency -poked small holes before applying glaze so it penetrates all layers
Preheat oven to 350*. Combine all the crust ingredients (except butter) in a bowl. Cut in the butter until the mixture is coarse and lumpy. Set aside about 1 cup of the crust mixture. Pat the remaining crust mixture into a greased 9x13 baking pan. Bake 15-20 minutes until golden. Remove from oven, but leave the oven on.
Prepare the filling: combine the dry ingredients in a medium bowl. In a separate bowl whisk together the zest, lemon juice and eggs. Whisk the wet and dry together until well blended.
Pour the filling over the warm crust. Sprinkle the remaining crust mixture over the top and bake for 25 minutes. Let cool.
Prepare the glaze by mixing the lemon juice, zest and powdered sugar until smooth. Drizzle over the bars.