GaylaJ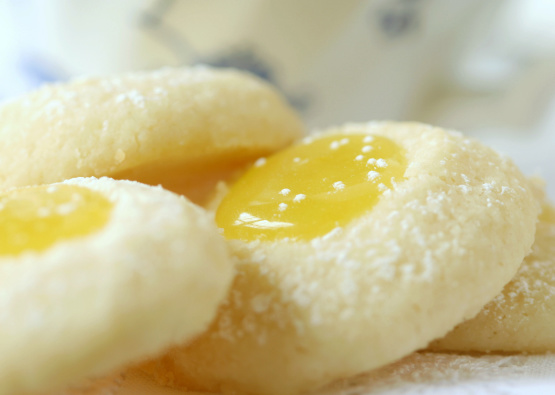 I love tart lemon desserts. This is a recipe I found on Betty Crocker that looks very good.

The recipe didn't state what flour to use, so I used Plain flour. It also said to use 2/3 of a cup. This is wrong. I used 2 cups after checking on similar recipes. The dough is crumbly to work with, so the overall effect on the cookies after they are baked, are rough to say the least. I baked the cookies for at least 5 minutes more than stated, as they were not cooked in the middle. I have a fan assisted too, so it wasn't my cooker. The sauce filling tastes quite good, but the cookie itself is dry, tasteless and boring. You have to make these small as stated, as the cookies would be too cloying if they were made bigger. The overall impression of these isn't fantastic. The photo looks great, but mine don't look anywhere near the representation. I have been baking for over 17 years, and I know my way round a recipe. I won't make these again.
In large bowl, Beat butter, 1/3 C powdered sugar, and vanilla with mixer on medium speed until well blended.
Stir in flour until dough forms.
Cover; refrigerate 30 minutes
Heat oven to 350°F Shape dough into 1" balls.
Place balls 2" apart. Press thumb into center of each ball to make indentation.
Bake 8 to 10 minutes or until golden brown.
Remove to cooling racks and cool completely, about 30 minutes.
In 1 qt saucepan, heat all filling ingredients over low heat about 25 minutes, stirring constantly, until smooth and thickened.
Cool about 15 minutes.
Fill each thumbprint with rounded 1/4 tsp filling. Sprinkle 1 T powdered sugar over cookies.