alligirl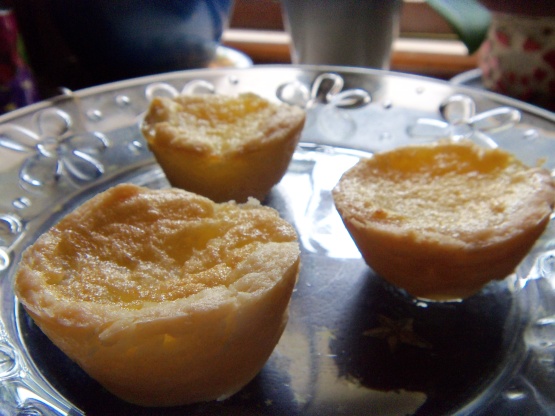 Lemony and delicate. For a variation add poppy seeds to the filling. Chilling time for the dough is not included.

These turned out very well, tho I need to get better at dividing dough up! LOL I did get 24, and there was a smidge of the lemon mixture left. There is no temperature to bake at, that I could find, so I suck with the old standard of 350. Mine took about 28 minutes, as I didn't want them too dark. The crust is tender, and the filling tangy, just as I expected. Made to honor Anneleis (Pets'R'Us).
Blend together cream cheese and butter. Stir in flour, form into a ball and chill at least one hour.
Divide into 24 balls, place in ungreased miniature muffin tins and press dough against bottom and up the sides.
Combine filling ingredients and mix well, divide among tart shells.
Bake 25-30 minutes or until set.
Cool them for several minutes and gently remove them from the tins.